Regulatory excellence in aviation safety and security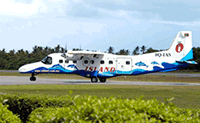 Maldives Civil Aviation Authority (CAA) was established by the Parliament under Act No.02/2012 on 11th January 2012. The CAA aims to develop and administer policies and regulations to ensure safe, secure, orderly and economic development of aviation in the Maldives.
Civil Aviation department places great emphasis on adopting highest common standards of safety and environmental protection in civil aviation. Our vision is to achieve regulatory excellence in aviation safety and security through a well motivated work force.
The main tasks of CAA are setting up national safety standards which are compliant with international standards; economic and safety regulation through regulation of airports, air traffic services and airlines.
Frequent Downloads
MCAR - 187 - Aviation Charges (PDF, 361KB)
Aircraft Register - Civil aircraft currently registered in the Maldives (PDF, 32KB)
ELGD - Engineer Licence Guidance Document (PDF, 488KB)
CAD Form 19E - MCAR-66 Exam Application Form (PDF, 54KB)
CAD OPS-05 - Application for issue of CPL (PDF, 24KB)

RoadMap to MCAR - 66 Aircraft Maintenance Licence (PDF, 1.8MB)
AOC Process Flow Chart
NEWS & Announcements
Press Release: Commencement of TigerAir-Singapore services to Maldives.
ICAO Announces 2013 Theme for International Civil Aviation Day
Message from the Minister In-Charge of Maldives Civil Aviation Authority Colonel Retired Mohamed Nazim on the Occasion of International Civil Aviation Day 2013.
Examination Time Table (24 November 2013).
Message from the Minister of Transport and Communication Col (RT) Mohamed Nazim and the President of the Council of ICAO Mr. ROBERTO KOBEH GONZÁLEZ on the Occasion of International Civil Aviation Day 2012
Press Release : Trans Maldivian Airways Aircraft 8Q-TMT Accident, 09 June 2012
Press Release : Maldivian Air Taxi Aircraft 8Q-MAT Accident, 09 Feb 2012

More News and Archives